In some parts of the world, they call this dish spaghetti bolognese. However, in Italy (or at least, in the part where I live), that's not a thing. This dish is, instead, pasta al ragù.
Ragù emphatically has nothing to do with the questionable quality American tomato sauce brand. It's just the word for a ground meat and tomato sauce. There are (unsurprisingly) near-infinite variations of this sauce.
This is the easy weeknight version. When summer comes around, I'll post a from-scratch version with home grown tomatoes. However, that's not to say this isn't proper, delicious Italian food. It is amazing, I promise!
The most important thing here is that you get good quality tomatoes. Taste the sauce – it should be sweet before cooking (and even sweeter after cooking). If you can't find good passata or tomato puree, use fire roasted canned whole tomatoes instead, and squish them up with your hands (or blend them in a blender).
The next most important thing here is that you use way more oil than you really feel quite comfortable with. This is not a diet food.
And – another important thing – you need to cook this sauce way more than Americans are accustomed to cooking pasta sauce. It should be very thick, like this (before adding to the pasta):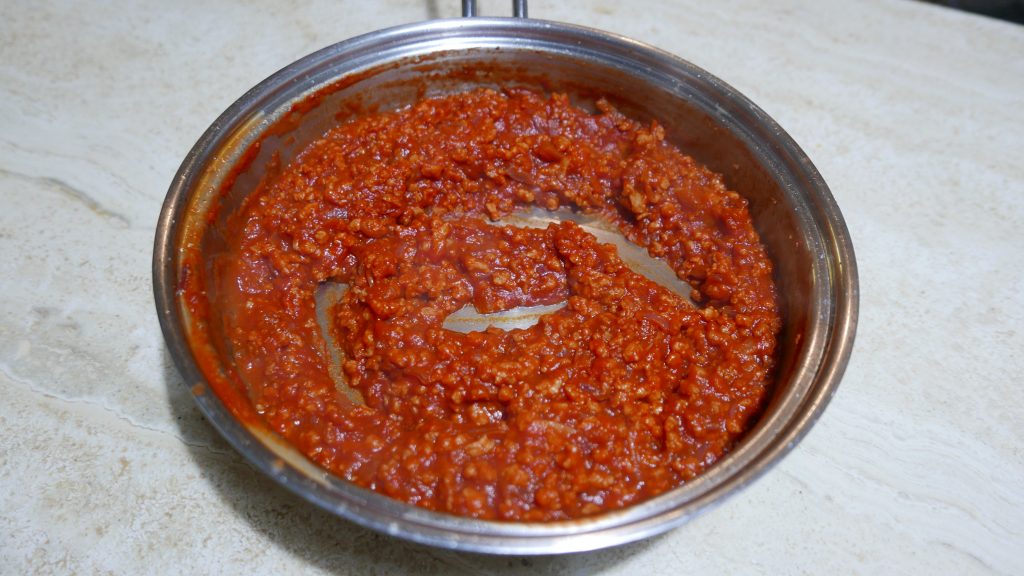 I'm supposed to (according to every Italian ever) stress that the quality of the oil is of utmost importance. The quality of the oil does make a difference, of course, but you'll still get a delicious outcome even with cheaper extra virgin olive oil. (Sorry, every Italian ever.)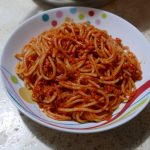 Print Recipe
Pasta al ragù
Ingredients
Ragù sauce
½

cup

TVP (textured vegetable/soy protein), in small granules

1

onion (preferably white or yellow)

chopped small

4

cloves

garlic

crushed

salt

1

tsp

dried oregano

or other dried herb of choice

5

leaves

fresh basil

optional

red pepper flakes, or chili oil

to taste

2

tbsp

olive oil

extra virgin

1

large container

passata or tomato puree (1 700g jar of the Italian style passata, or one 28-29 oz can American-style tomato puree)

additional olive oil for finishing

several tablespoons
Pasta al ragù
300

g

pasta (I used spaghetti n. 3)

water for boiling pasta

salt for pasta water
Instructions
Heat a dry frying pan over medium heat. When it is warm, toast the TVP granules in the dry pan for a few minutes, until they begin to brown. Remove the TVP from the pan and set aside.

Turn the heat down to medium-low, and saute the onion and garlic in the olive oil (with some salt), until translucent and just barely beginning to brown.

Add the oregano, TVP, and chili flakes or oil (if using), and cook for another minute.

Pour in the passata or tomato puree and add basil leaves. Stir to combine, and bring the heat up to high until it starts bubbling. Turn back down to low.

Stir frequently, and taste frequently. Add salt as needed (it's probably needed).

While the sauce cooks down, heat the pasta water with plenty of salt (precision is not important, but about a tablespoon of salt).

When the water is boiling, add the pasta, and stir to keep the pieces from sticking together. Cook as directed on the package.

Near the end of the pasta cooking time, you should notice the sauce getting very thick. If necessary, use some pasta water to thin it (but not too much – thick is good!).

If desired, remove the garlic cloves and basil leaves from the sauce. (I usually leave them in, but some people don't like to!)

Drain the pasta, and return it to the pot. Scrape the sauce in, and douse with more oil. Stir well.

Taste, and adjust salt and oil as necessary.

Serve with vegan parmesan and more oil.