I'm a little hesitant to call this recipe a "frittata." It's delicious, yes, but it's not really very eggy. (Which is my preference, I always hated eggs.)
I suppose it's really more of a special chickpea flour based torta salata (savory cake/pastry).
Anyway, it's delicious, and super versatile (substitute basically any veggies instead of the potatoes and spinach), and it comes together very easily without a lot of active cooking time.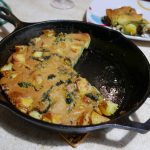 Print Recipe
Potato-spinach Frittata
Equipment
Tall frying pan which can be transferred to the oven; preferably cast iron
Ingredients
1

onion

chopped

2

cloves

garlic

minced

1

tbsp

olive oil

½

tsp

salt

2

large potatoes

peeled and cubed

½

cup

frozen spinach

if in cubes, defrost and separate leaves as much as possible

1

cup

chickpea flour (about 120g)

1

cup

unsweetened plain soy milk

2

tbsp

olive oil

1

tsp

salt

¼

cup

nutritional yeast flakes (15g)

½

tsp

dried herbs of choice (I like sage and rosemary)

ground black pepper

to taste
Instructions
Preheat the oven to 350 degrees F / 175 degrees C.

Prepare the veggies – chop the onion, mince the garlic, peel and cube the potato. Defrost the spinach if it's in cubes (if it's in leaves, no need to defrost it).

Saute the onion and garlic with olive oil and salt in a medium pan which can be transferred to the oven (preferably cast iron). Cook over medium-low heat, stirring occasionally, until translucent and slightly browned.

While the onion and garlic cooks, mix the batter. Mix the chickpea flour, soy milk, olive oil, salt, nutritional yeast, herbs, and pepper until it forms a thick batter. The consistency should be like thick pancake batter. If it's too thick, add a bit of soy milk to thin it. If too thin, add a bit of chickpea flour.

Raw chickpea flour is gross, but taste a tiny bit of the batter for salt. It should taste pretty salty but not overwhelming (this salt also needs to season the potatoes). Add more salt if necessary.

Turn off the heat. Add the potatoes and spinach to the pan and stir briefly.

Pour the batter over the ingredients in the pan. Gently move ingredients as necessary so that the batter reaches the bottom of the pan in most places. This doesn't have to be perfect or uniform – the batter just needs to "stick together" all the veggies.

Bake in the oven at 350 F / 175 C for 45 minutes.

Allow the frittata to cool for 5-10 minutes before slicing.