We usually spend New Year's Eve with my partner Davide's mother. We have a huge (multi-course) dinner, very late (starting around 9 pm).
As per Italian tradition, we always incorporate lentils in the meal. Lentils represent coins, and are supposed to bring money in the new year.
This year, I cooked most of the meal, and Davide's mother made focaccia and french fries to go with the meal.
There are no new recipes – everything is from other recipes, or without precise measurements. I'll share links to recipes and notes, but mostly this is food porn. 🙂
Antipasti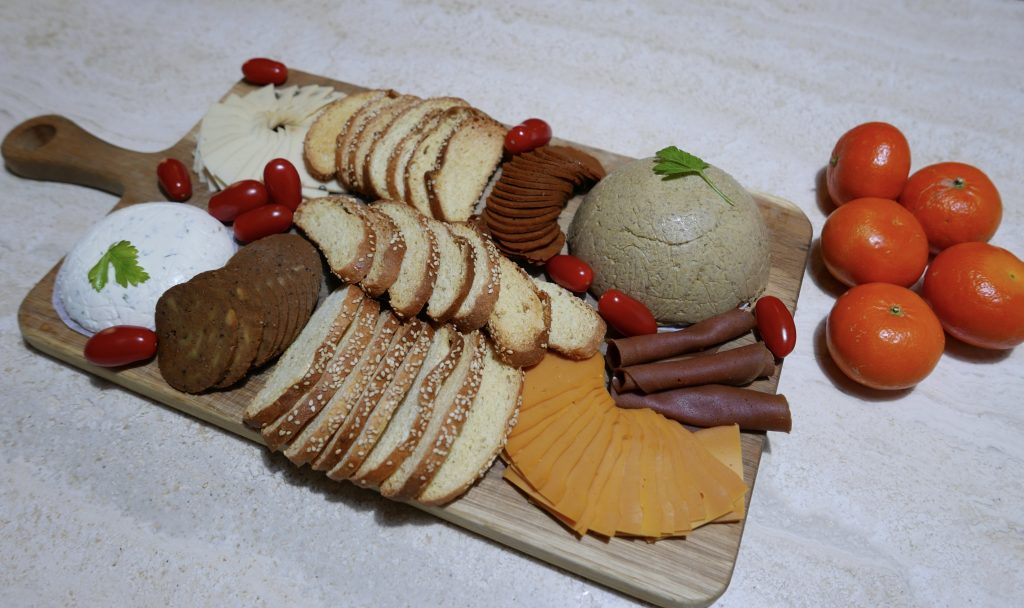 On this board (clockwise from top left):
Parmesan from The Gentle Chef's Cook and Let Live, with black peppercorns added
Homemade brioche buns, sliced and dried in the oven
"Pepperoni"1 from The Gentle Chef's Seitan and Beyond cookbook
Lentil-mushroom pate, with lots of nutritional yeast, coconut oil, olive oil, salt, and a touch of liquid smoke and poultry seasoning
Veghiamo brand seitan-based deli slices (store-bought)
Shreddin Chedda' from The Gentle Chef's Cook and Let Live cookbook
Salami from Seitan and Beyond (The Gentle Chef)
Farmer's cheese with fresh dill and parsley (from the garden) – following approximately this process, but using lactic acid instead of vinegar, and a bit of extra coconut oil emulsified in the soy milk
1 This is not a proper Italian name for this thing, and I get mocked anytime I say it. I've learned to just call it a salame (even in English).
Focaccia
Thanks to Davide's mother, we had delicious foccacia throughout the meal!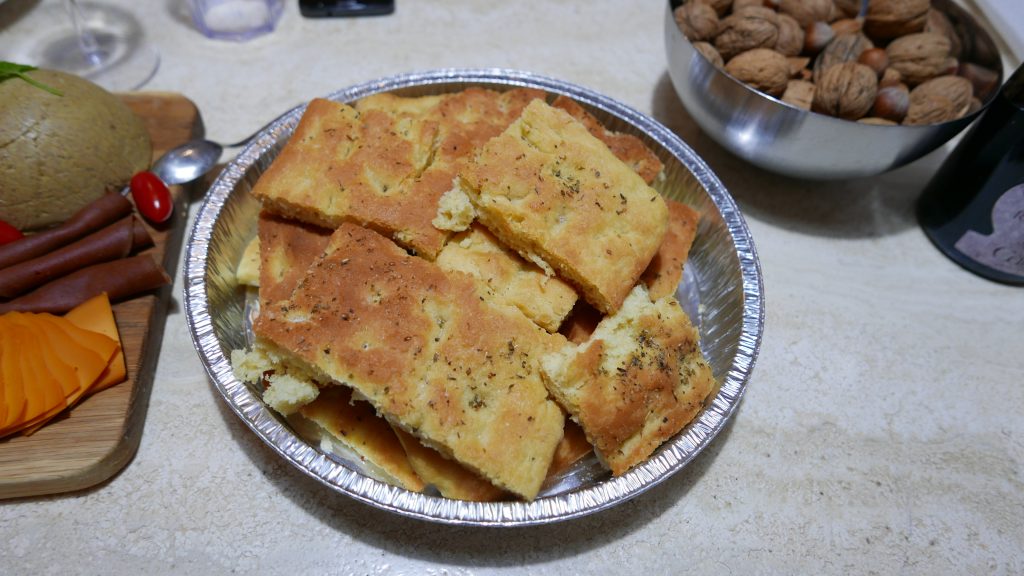 Lentil-Farmer's cheese ravioli
In garlic-herb butter.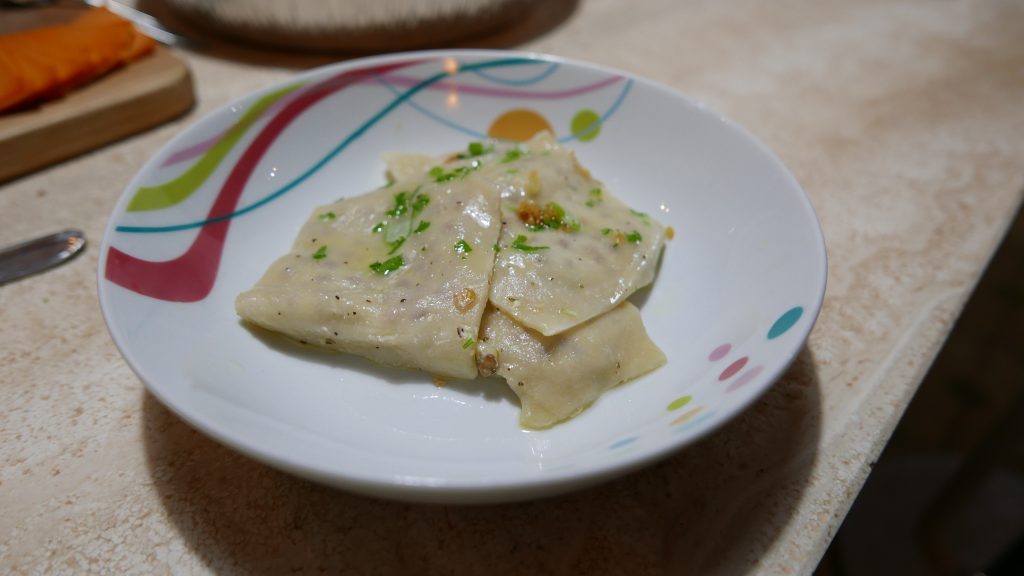 These used the farmer's cheese from the antipasti board, fresh egg-free pasta, and al dente cooked lentils. The sauce is: vegan butter (I highly recommend the Gentle Chef's churned butter, in Non-Dairy Evolution or Cook and Let Live cookbooks), olive oil, minced garlic, green onion, parsley, dried sage, salt, pepper.
Steak in green peppercorn sauce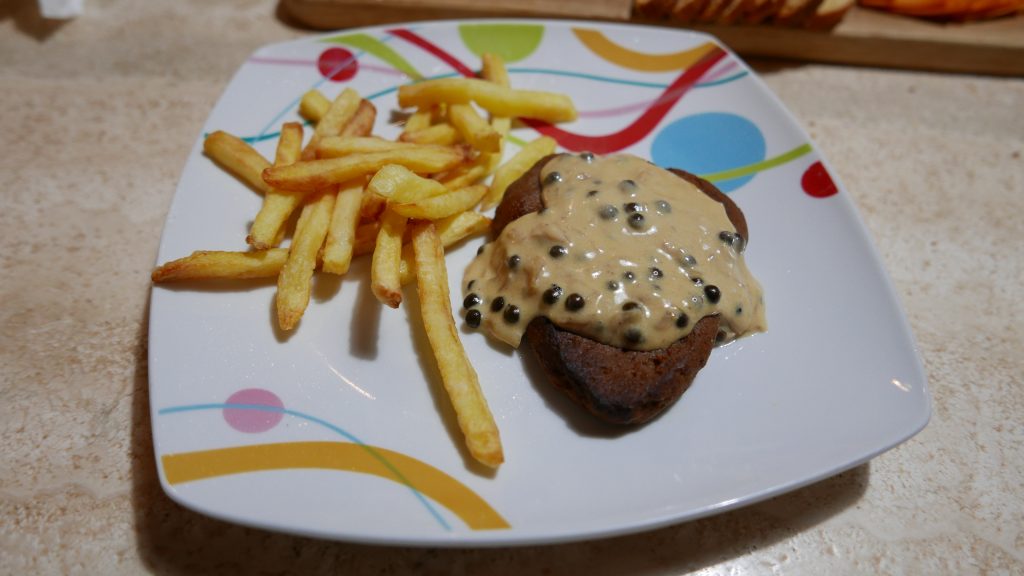 I've used the tournedos of beef recipe from the Gentle Chef's Seitan and Beyond, and heavy cream from Non-Dairy Evolution. Otherwise cooked with standard (non-vegan) recipes.
Cheesecake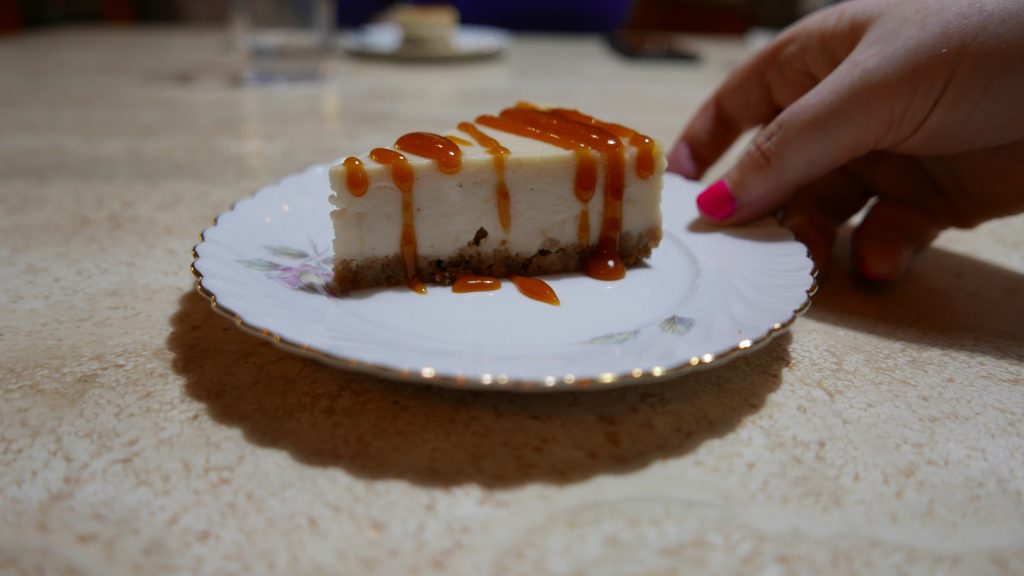 I used this cheesecake recipe (with the addition of lemon zest, and I used the corn starch option), with my cream cheese, my sour cream, the Gentle Chef's heavy cream, and the Gentle Chef's churned butter (Non-Dairy Evolution or Cook and Let Live), and McVitie's Digestive Biscuits instead of graham crackers.
The salted caramel sauce is veganized from a non-vegan recipe. It turned out okay with some last-minute changes, but it did not go very well, so I won't link the (failed) recipe!
For me, this was the biggest win of the dinner – it was absolutely amazing and delicious and creamy and perfect and definitely recommended!
Spumante
Not champagne – because it's Italian, not French. 😁
Anyway, none of us really likes this stuff, but it's traditional, so we had it anyway. This particular brand was quite good (for what it is), though. And it's vegan, which is what's important!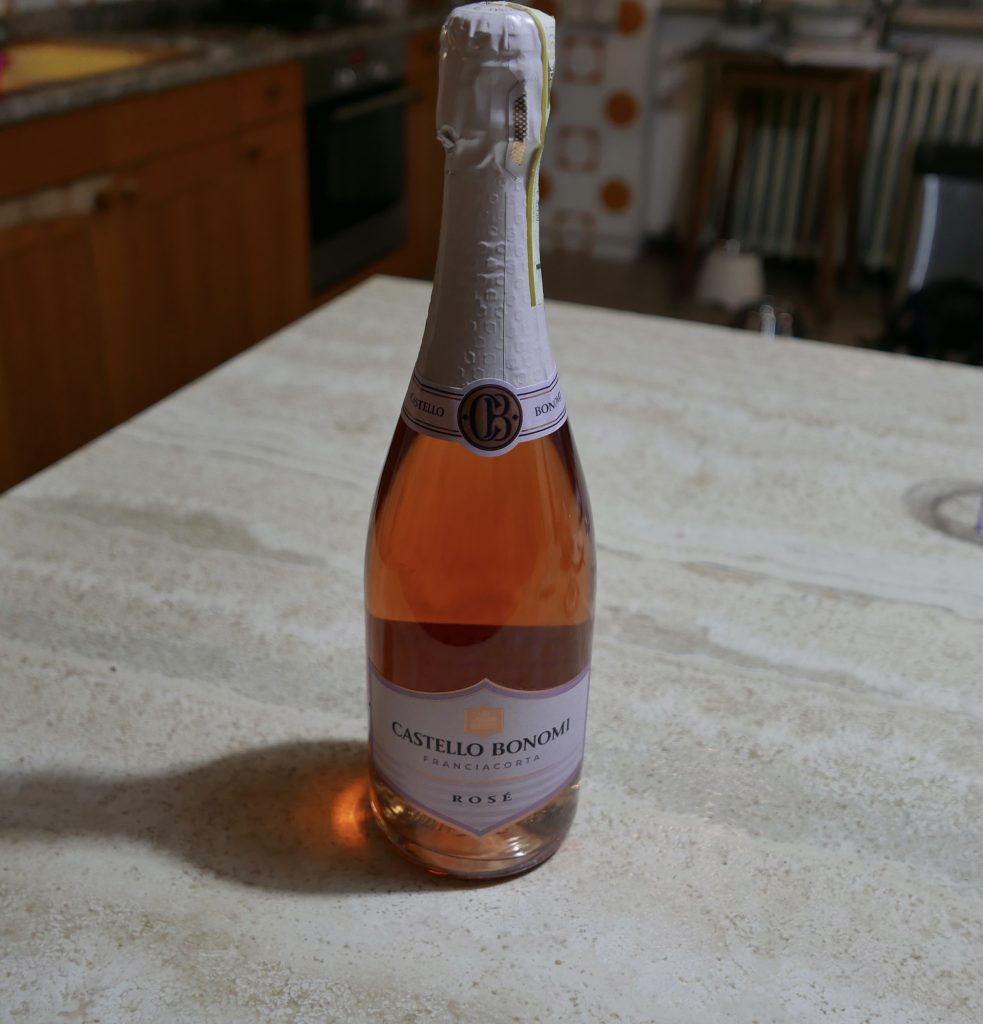 Happy New Year! 🎉