After our epic New Year's Eve celebration, we needed something a bit lighter. Plus, it's traditional (in the American tradition, that is) to eat something green on New Year's Day, and we had some chard in the fridge, so – soup time!
I've made some variation of this soup many, many times, and it's always a hit.
It's super flexible, but here's some variations to try:
Use another green vegetable instead of chard (spinach, broccoli, kale, etc.)
Leave the potatoes in chunks, and add extra corn starch or flour to thicken it more
Leave out the sour cream – it adds a great flavor, but isn't actually necessary
Add vegan cheese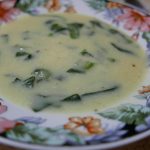 Print Recipe
Creamy Potato-Chard Soup
Ingredients
½

medium onion

chopped finely

1

clove

garlic

minced

1

head of chard

or 2 small heads

3-4

large potatoes

in 1-2 inch cubes

2

tbsp

olive oil, vegan butter, or other fat of choice

vegetable broth powder, bouillon cube, or liquid broth

1

tbsp

corn starch

dissolved in 2 tablespoons of water (optional)

¼

cup

sour cream

1

cup

unsweetened plain soy milk

salt

to taste

black pepper

to taste
Instructions
Prepare the veggies – chop the onion, peel and cube the potatoes, mince the garlic, and separate the green part of the chard from the stem.

Slice the stems of the chard. If there are a lot of stems, use just half (and save the rest for another use, or compost them).

Slice the green parts of the chard, and set aside for later.

Cover the cubed potatoes in water, so they don't brown before use.

Saute the onion and chard stems in oil or butter, with a bit of salt, until soft and beginning to brown.

Add potatoes and vegetable broth (and water, as necessary) to cover the potatoes. Bring to a boil, turn down to low, and cook covered until potatoes are soft (about 5 minutes).

Add soy milk and sour cream to a blender, and transfer potatoes to the blender. Add a bit of broth if necessary. Blend until smooth and transfer back to the pot.

Alternatively, use an immersion blender in the pot, and then add soy milk and sour cream directly to the pot.

Add the green parts from the chard to the pot, and bring to a simmer. Cook until the chard is soft.

If necessary, add corn starch (dissolved in water) to thicken the soup.

Add salt and pepper to taste.